Description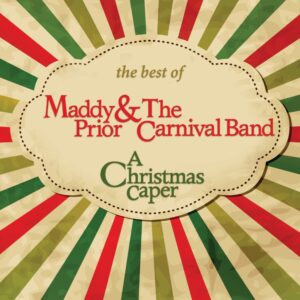 Of all the festive traditions, few have stood the test of time better than the Christmas carol. Maddy Prior and the Carnival Band know this more than most, having been inspired by the music of Christmas for the past twenty five years. Now and for the first time, the very best of these have been brought together on one album. The Best Of Maddy Prior and The Carnival Band collects twenty two tracks from across their career. Along the way you will find a mixture of the familiar and the less well known, all presented in a most unique style.
With an extensive experience in folk, medieval, world and classical music between them, the singer and players guide us to exquisite places. Telling the Christmas story in a variety of ways, the likes of 'I Saw Three Ships', 'While Shepherds Watched', 'God Rest Ye Merry Gentlemen' and 'The Holly Ivy' are revealed as versatile, striking pieces of music with words to match.
A collection of some of the most famous carols of all time and led by one of the great voices in British music, the album is perfect for those who want to enjoy their Christmas music with a spirit, a passion and a twist.
Track Listing
Ships
While Shepherds Watched
Angels From The Realms Of Glory
God Rest Ye Merry Gentlemen
Monsieur Charpentier's Christmas Swing
Joy To The World
See Amid The Winters Snow
Poor Little Jesus
Blake's Cradle Song
The Coventry Carol
The Boar's Head
Ding Dong Merrily On High
The Holly & The Ivy
Personent Hodie C Cradle Song
Bright Evening Start
Hark Hark What News
Away In A Manger
Dealer Price: 7.99 The Carnel & The Crane
Bring Us Good Ale
La Danse Carree
The Quiet Way Home