Description
Kathryn Tickell – Strange But True CD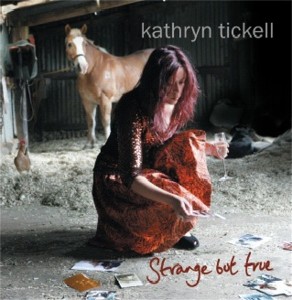 If one thing has characterised Kathryn Tickell's career over the years, it has been her constant desire to discover and collaborate with other musicians, from the established to the unsung to those on the first steps of their musical journey. Thus she not only played with the likes of Sting but also Ensemble Mystical, veteran Northumbrian fiddler Willie Taylor and the Gateshead Youth Orchestra.
Strange But True then is not a new Kathryn Tickell album in the strictest sense, yet nor is it the standard compilation. As Kathryn herself puts it, "It's really a kind of retrospective – looking at a few of the collaborations I've been involved in over the years, ranging from the sublime (I hope) to the ridiculous…and yes, there are some strange moments on it". Put together over the course of the last year, it features a range of musical styles from the pure tradition that we have come to expect (instrumental duets with Karen Tweed and Catriona Macdonald) to work with jazz saxophonist Andy Sheppard, Norwegian brass ensemble the Brazz Brothers, harpist Corrina Hewat and Folkestra, a collection of young folk musicians of whom Kathryn has been the artistic director for the past six years.
In amongst it all, however, is the passion, feeling and joy that has marked all of Kathryn's work since she first emerged as a teenager. Few have done so much for the traditional music of this country, both in terms of performance and making a contribution to its future. Strange But True is another chapter in this amazing story, one that demonstrates that if Kathryn Tickell is determined to do anything, it's to keep moving forward. "I think it's important to understand that, just because I go and do some weird collaboration with someone, it doesn't mean that I've turned my back on traditional music forever", she says, before laughing. "It just means that I did a weird collaboration!"
Track Listing
Side Echoes – with Andy Sheppard
Brides Marches – with Catriona Macdonald
Air/Border/Holmes' – with Corrina Hewat
Winter is Past – with Katie Doherty & Olivia Ross
Dream Waltz – with Folkestra
Donald Willie – with Pipelines
Here's the Tender – with Corrina Hewat
Men of Destiny – with Pipelines
Wild Hills – with The Brazz Brothers
Salmon Tails – with Folkestra
Brafferton/Walsh's – With Karen Tweed
Splish Splash – with Anxo Lorenzo & Rory Campbell
Raffert's Unreel – with The Brazz Brothers Extra Track
Techno ate the Musicians – with the Demagogue Reacts!