Description
Kathryn Tickell – Air Dancing CD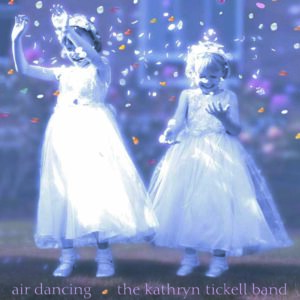 Since her professional debut aged 18, Northumbrian piper and fiddler extraordinaire Kathryn Tickell has taken the traditions of her home in the North Tyne Valley to new ground, both geographically and musically. An ambassador for traditional music (she was among the first folk musicians to perform at the last night of the Proms), her most recent albums Ensemble Mystical and Back to the Hills showcased respectively her openness to intriguing new collaborations, and her deep roots in the traditional music of Northumbria. Having appeared with many great musicians over the years, Kathryn marks a new chapter in her career with her 11th album, and the first recording of a line-up hailed by audiences as her best yet.
Kathryn is joined by long-time collaborator Julian Sutton (melodeon) a well-known face on the Tyneside traditional music scene; Peter Tickell, an outstanding fiddler, who was a finalist in the 2001 Radio 2 Young Folk Awards; guitar/ bassist Joss Clapp, a founder member of young band Tarras, and a musician in much demand, with guest appearances by Kit Haigh on guitar and percussionist Donald Hay.
As always in Kathryn's work, the music of Northumberland and the Borders is a source of material and inspiration, with original compositions by Kathryn and the band members sitting alongside traditional tunes. The interaction between these very different musicians is a springboard for arrangements that match digital dexterity with musical creativity and a willingness to experiment with a range and variety of instrumental sounds. From the driving sounds of two fiddles, the wonderful blend of pipes and melodeon, or the excitement of the full band, with guitar and bass adding depth and rhythmic complexity, this is music that excites and engages all the way
"Air Dancing – it's Piping Hot" Phil Udell Hot Press
Kathryn with Peter Tickell, fiddle and viola; Joss Clapp, guitar and bass; Julian Sutton, melodeon (the current line up of the Kathryn Tickell Band); with percussion from Donald Hay.
Tracklisting
April
Rhymeside
Small & Wild
Herd
Waltzes
Winding Sideways
Bridge
Long Grass
Peter Man
Air Moving
Herbert
Steve and Jenny