Description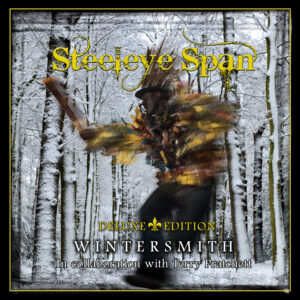 Steeleye Span are re-releasing Wintersmith as a Deluxe 2 CD package complete with 4 brand new songs, 8 live tracks and 2 demos!
Wintersmith saw Steeleye Span collaborate with Sir Terry Pratchett on a brand new project, a record based on Pratchett's Wintersmith novel. The subject matter completely appropriate for Steeleye, a tale of ancient rituals and secret folk dances that perfectly complements their previous work whilst taking it in new directions.
Such a record needed a special touch to do it justice and the band found just this in the guise of Chris
Tsangarides, A producer with a CV that includes the likes of Thin Lizzy, Judas Priest, Black Sabbath
and Gary Moore as well as Tom Jones, New Model Army and Depeche Mode, Chris has brought his special
talents to mixing the album – harking back to their classic sound and picking up where recent releases They
Called Her Babylon and Bloody Men left off. With special guest appearances from Northumbrian piper
Kathryn Tickell, Bellowhead's John Spiers and Pratchett himself providing spoken word Wintersmith – their fifth long player in less than a decade – is an album to delight long term fans and reinforce Steeleye Span's status as
legends of British music.
Tracklisting
CD1
1. Overture
2. The Dark Morris Song
3. Wintersmith
4. You
5. The Good Witch
6. Band of Teachers
7. The Wee Free Men
8. Hiver
9. Fire & Ice
10. The Making of a Man
11. Crown of Ice
12. First Dance
13. The Dark Morris Tune
14. The Summer Lady
15. Ancient Eyes
16. We Shall Wear Midnight.
CD2
1. To Be Human
2. Be Careful What You Wish For
3. Granny Aching
4. Just One Heart
5. You (Live)
6. Ancient Eyes (Live)
7. The Dark Morris Tune (Live)
8. The Dark Morris Song (Live)
9. The Making of a Man (Live)
10. Crown of Ice (Live)
11. Summer Lady (Live)
12. We Shall Wear Midnight (Live)
13. Ancient Eyes (Demo)
14. The Wee Free Men (Demo)